North Side of the Square
The north side of the market is characterized by houses of traditional Flemish style with stepped gabled roofs.
See the Neoclassical building to the left of Aart Geer Street which was formerly the St. Christopher Church before being demolished in 1786. You can clearly see where the church was situation as the buildings situated there now are more advanced than the houses on the other side of Aart van de Geer Street. In this last row of houses now include Le Panier d'Or , the guild house of roofer tilers, and La Civiere d'Or , the guild house of the fishermen and fishmongers who were so important historically to the city.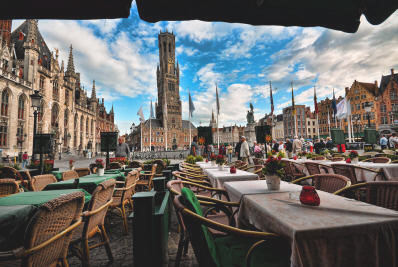 There are also many restaurants with open air tables, a great place to have a meal or a drink and watch the life of the city go by. At Damario Restaurant and Pizzaria you will find traditional Pizza, Pasta and salads. While at De Beurze Restaurant and Tearoom there is a set priced 19 euro menu in the traditional style of the region.
The Hotel Central on this side offers rooms with great views of The Markt, and of course also a restaurant serving regional specialties.
The Markt Bruges - A definitive guide - Belfry - Getting there - Christmas