The Markt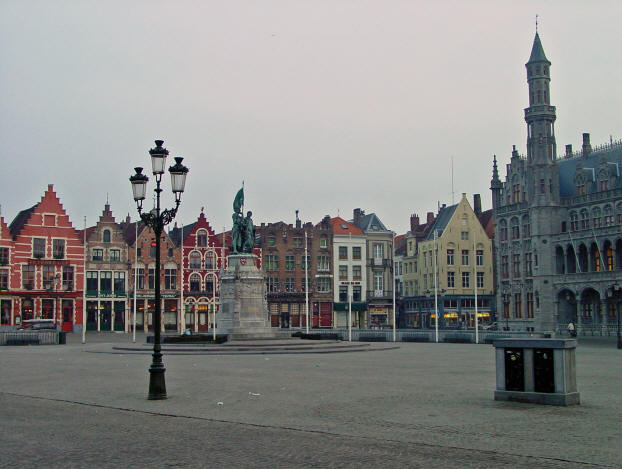 The Main Market Square - "Markt" in Flemish spelling, also known as the Gross Markt or Old Market you will find that The Markt is the very heart of Bruges and brings together all the key things you want to see and experience on your visit to Bruges.
Located right in the centre of the city it is quite small at only 1 hectare (2 1/2 acers) but makes up for it's small size by enclosing more history and current activity than you can imagine.
From it's roots as a historical town square for trade and public gatherings it has transformed into today's Markt of today with restaurnts, cafes, shops and market stalls on the cobbled square against a backdrop of medieval buildings.
Horse drawn carriage give rides to visitors who want to experience an authentic European historic means of transport, while in the background the bell tower rings the hours.
The square is lined with restaurants, most with outside seating, where you can sit and watch the world go by. Or eat fried potatoes with Mayo from the Frites stalls in front of the Bell Tower on Market Day which is Wednesday morning.
Inside the Markt square itself are two museums, the Dali Xpo Gallery which is a collection of art by Salvador Dali, and the "Historium" opened in 2012 which uses special effects and life size models to bring you back to the golden ages of Bruge when it was a world city including a replica of studio of the renowned painter Jan Van Eyck.
The Markt Bruges - A definitive guide - Belfry - Getting there - Christmas